Miso soup is the base of Japanese home meal. Miso is one of the super food and so good for your guts.

Miso is fermented and contains living enzymes. Good Miso is still alive with lots of beneficial bacteria.
The benefits of eating MISO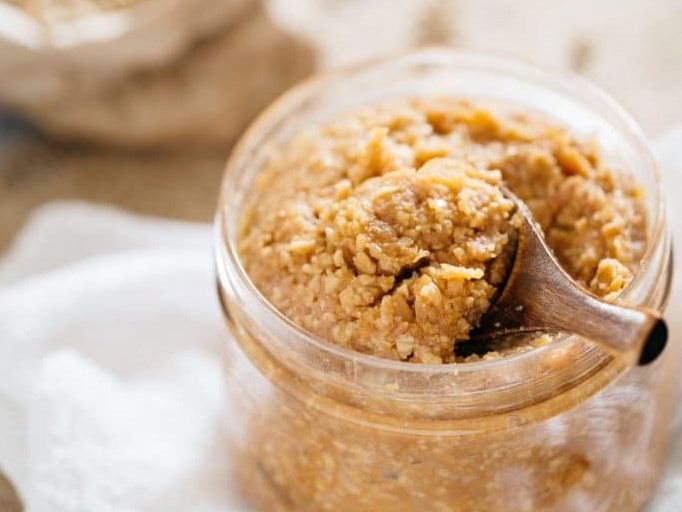 REDUCES RISK OF CANCER
PROTECTION FROM RADIATION
IMMUNE STRENGTHENING
ANTIVIRAL
PREVENTS AGING
HELPS MAINTAIN NUTRITIONAL BALANCE
HELPS PRESERVE BEAUTIFUL SKIN
HELPS REDUCE MENOPAUSAL COMPLAINTS
… and more!
The easiest way to make "Miso soup"
Just add one spoon of Miso to warm water.
Too easy! You can have nice warm soup it will make you feel so warm and nice.

The important key is to use warm water (never boiling!) so as to not damage the enzymes and beneficial probiotic bacteria.
Traditional way of making Miso soup
TOFU & WAKAME SEAWEED MISO SOUP
Ingredients (Serves 4)
1/3 pack Tofu, chopped into 1 cm cubes.
30 g Wakame seaweed
1/4 of spring onion, chopped into small pieces
3 1/3 cup Dashi
60 g Miso
Method
Place Dashi (how to make super delicious Dashi? See THIS BLOG) and Tofu in a sauce pan, put it on high heat. Turn down the heat to medium when it's boil.
Add Wakame seaweed, few seconds later turn off the heat.
Scoop Miso with ladle. Mix with little bit of Dashi in the ladle. (In this way, you won't have big chunk of Miso remaining in your Miso soup.
Reheat the soup until just boiled. If you boil Miso, then the flavour is reduced. Sprinkle spring onion.
You can use this technique to make any other Miso soup🙂
What else can be used for Miso soup??
Basically, you can put any veggies you like. In my case, I harvest various greens/ carrots/ peas or beans from my garden and make Miso soup!
Here is some suggestion of ingredients for the Miso soup.
Asian greens+ carrot+ spring onion
Lettuce+ carrot+ mushroom
Enoki mushroom+ Shitake mushroom+ spring onion/ leek
Potato+ onion + green bean
White radish & leaf+ Wakame seaweed
Daikon radish+ deep fried Tofu+ spring onion
Cabbage+ deep fried Tofu+ snow pea
Pipi+ spring onion
Potato+ Wakame seaweed+ Mitsuba herb
You can also add drops of toasted sesame oil. I love this!
Also you can add slice of pork/ chicken / fish to your Miso soup. It will make your Miso soup more rich in taste!