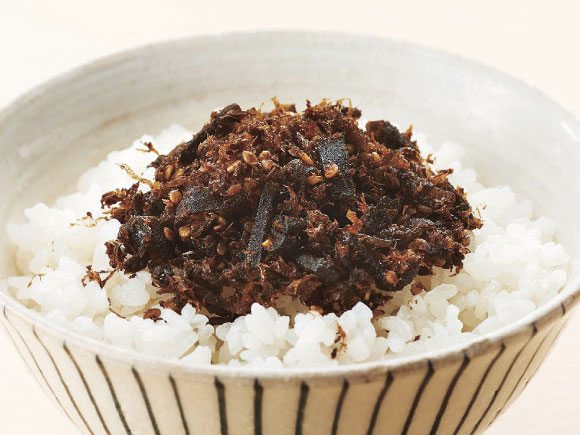 If you are craving for Furikake Gohan (Japanese rice with rice seasoning), or you want to use Kombu (Kelp) and Kastuobushi (dried bonito flakes) after making Dashi, here is the delicious recipe!
Furikake is fabulous on rice of course, but also on Tofu, udon noodles, salad, rice ball and more. 

There are 2 recipes. The first one is simple and easy. The second one is more professional recipe 🙂
1. Simple and easy Recipe
Ingredients
50g Kombu (Kelp) seaweed cut into thin slice
50g Katsuobushi (dried bonito flake) chopped into small pieces
1.5 cup cooking Sake
1/2 cup soy sauce/ Tamari/ Tamari Koji
4 tbsp Mirin
Method
Place Kombu, Katsuobushi, cooking Sake and soy sauce/Tamari/ Tamari koji in a sauce pan. Cook on medium heat, stirring constantly until dry.
Add Mirin, when it's dry again, it's done!
2. Professional Recipe
Ingredients
50g kombu (kelp) seaweed cut into thin slice
50g Katsuobushi (dried bonito flake) chopped into small pieces
2 tbsp vinegar*
1.5 cup Cooking Sake
1/2 cup soy sauce/ Tamari sauce/ Tamari Koji
4 tbsp Mirin
1 Tbsp toasted sesame seeds (If you like)

*Adding vinegar makes Kombu softer.
Method
Put kombu, katsuobushi, water, vinegar and cooking sake in a saucepan. Cook on medium heat. Once boiled, turn down the heat to low, simmer it for 20min.
Skim the foam.
Add soy sauce, Tamari, or Tamari Koji until boiled, turn down the heat to low, simmer it for 30min with a small lid resting directly on the kombu and Katsuobushi. (Drop lid even distribution of heat)
Add Mirin, cook on low heat until it becomes dry. Turn up the heat to medium, stir it well.
Rest it on a vat.