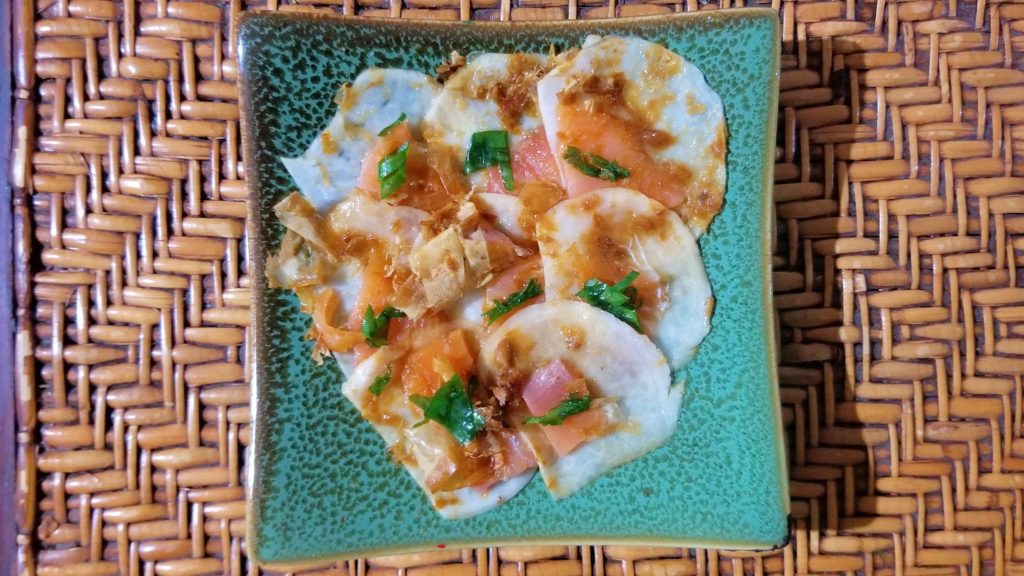 This is so delicious as I needed to make another batch for the second round!
The Tamari Koji lemon sauce is very simple recipe but so yummy:) The sauce itself is a vegan.
Ingredients
Turnip
1 tsp salt
Smoke salmon (optional)
Bonito flakes (Katsuobushi) (optional)
Spring onion chopped finely
Salt Koji lemon sauce
1/2 lemon juice
1 clove garlic grounded
1 tbsp Tamari Koji
1 tbsp your favorite oil
Method
Slice turnip thinly.
Sprinkle salt to turnip slices and mix well. Leave it during making the sauce.
Make salt Koji lemon sauce. Mix all ingredients well.
Place turnip slices on the plates. Place smoke salmon on the turnip. Put the sauce on. Sprinkle bonito flakes and spring onion as you like.

You could skip the smoke salmon, but if you like smoke salmon, I recommend to add it on. Turnip and smoke salmon are very good combination. Also the garlic will bring good flavour to it. Yum!

If you'd like to watch this recipe on Youtube, click here 🙂