Have you tried Babka with Miso? Miso and chocolate are really good combination. The sweetness of the chocolate and Umami + saltiness from the Miso make a beautiful harmony.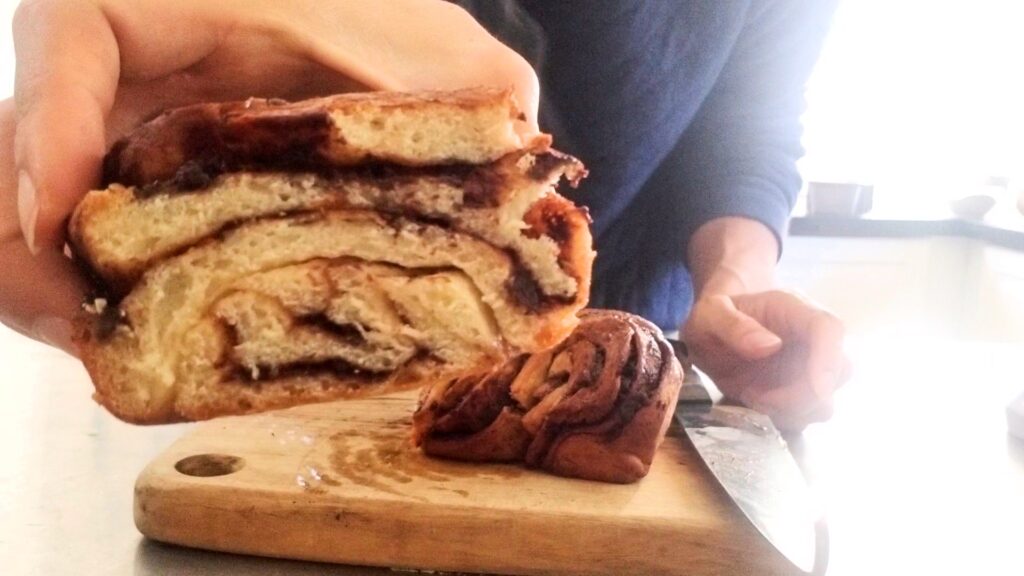 🍴RECIPE
Prep Time: 5 mins
Cook Time: 90 minutes
Servings: 1 Babka
🍄Ingredients
1/4cup warm water, around body temperature
3g dry yeast
12.5g honey
½ tbsp butter, melted
2 eggs, bitten
¼tsp salt
250g/0.55lbs flour (I used bakers flour)

Chocolate paste
40g bitter chocolate
15g sugar
¾ tbsp white Miso
½ tsp cinnamon powder

For applying to the dough
🥘Method
Place warm water in a bowl, then yeast and honey. Leave for 5-10min. (Yeast becomes active)
Add butter, ½ egg and salt. Mix well.
Add the flour 1 cup at a time. Stirring after each time. Knead for 4-5 min until the dough surface becomes smooth and elastic. (I kneaded for 30min!!) Keep the dough in warm place (Around 30℃=86°F)
Butter a bread pan. (Line it with parchment paper if necessary.)
Punch down the risen dough (I didn't need to do it in the video). Then knead for 5min. Then keep it in the fridge for 5 min.
Combine the chocolate, palm sugar, miso and cinnamon in a saucepan with low heat, mix well. (Be careful! It's easy to get burnt).
Roll out the dough using a rolling pin in a rectangle shape until about 1.5cm/0.5inch thick.
Brush the dough with melted butter and brush chocolate- Miso mixture.
Roll all the dough up into a rope. And cut the rope into half.
Make X shape with two ropes and twist the two ropes.
Place the dough in the pan, cover it with eco wrap/ plastic wrap and let rise for 30min at room temperature.
Preheat the oven to 180℃/350°F.
Beat the remaining egg with 1tbsp water and brush the top of the risen dough with the egg. (You can sprinkle the coarse granulated sugar on top if you like)
Bake for 30min or until the top is brown.
Bon Appétit!


You can watch this recipe on Youtube🌝